Alpine Skills Weekend 2024
January 11, 2024

-

January 15, 2024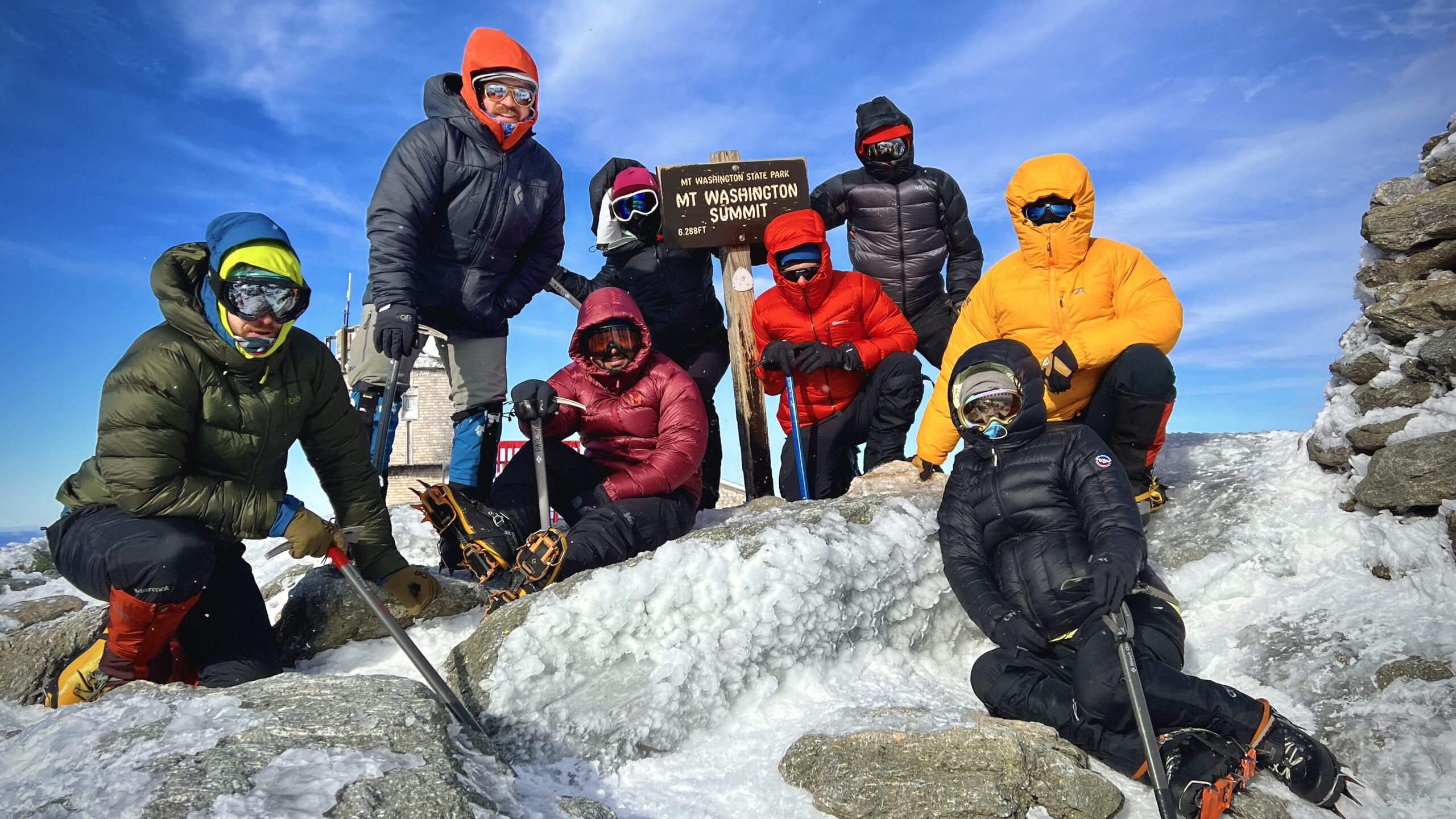 Each winter PATC-MS offers an Alpine Skills Weekend (ASW) to share our members' mountaineering experience. No prior experience is required. Participants must obtain (rent, borrow, buy) mountaineering equipment and winter clothing for potential extreme weather conditions.
The primary purpose of ASW is to learn basic mountaineering skills in a winter environment. It is appropriate for people who have limited or no mountaineering skills. If weather allows we will make a summit attempt on Mt. Washington. We expect all participants to be in shape and prepared for the elements when they arrive in New Hampshire.
Climbing, and especially mountaineering, is a dangerous sport. Mt. Washington has recorded many of the worst winds and coldest temperatures – anywhere. Do not underestimate what -20°F feels like.
Detailed information will be provided to participants about the required gear and other logistics for the course.
Trip application: The trip is limited to PATC-MS members only. There is no RSVP for this event, all registrations will be handled through the trip application process. Applications will close on October 8 and applicants will be notified by October 11. Preference will be given to those who have been members of PATC-MS longer. Everyone who wants to participate in the trip, including family members with a family membership must complete the application.
Trip Summary
Dates: January 11-15, 2024 (MLK weekend)
Location: Mount Washington, North Conway, New Hampshire
Participants: 10
Mentors: 3-4
Lodging: tent camping outside of Harvard Cabin
Participants will meet at Pinkham Notch Visitor Center at 11am on Thursday, January 11. Participants must arrive in North Conway no later than Wednesday evening (motel stay) to allow plenty of time on Thursday to take care of last minute things.
Participants are REQUIRED to attend the following pre-ASW activities:
October 25 at 7pm – Zoom meeting
November 18 – Training hike in Shenandoah National Park 
December 16 – Gear check in Vienna, Virginia 
Consider the dates for ASW and the pre-ASW activities carefully. This is a popular event. There will be a waiting list. If you drop out, it may affect the other participants.
Primary Skills Covered
Tent camping in the snow
Ascending a snow slope in boots
Use of crampons
Use of mountaineering ice axe
Self-arrest
Moving in rope teams
Snow anchors
Descending: walk-off using plunge step
Descending: rappelling (v-thread, bollards, etc) – time permitting
Use of avalanche gear – time permitting
Intro to ice climbing – time and weather permitting
Experience and Equipment
No prior experience is required for ASW. Participants must obtain (rent, borrow, buy) general mountaineering equipment and winter clothing for possible extreme severe weather conditions. Some equipment (axes, boots, crampons) is available to borrow from the PATC-MS Gear Locker. Rental gear is available in North Conway at International Mountain Equipment (IME) and REI.
Want an idea of what you'll need? Check out the basic ASW gear list.
Cost
There is no cost to sign up for ASW. However, all personal trip expenses are the responsibility of the participants. These expenses include travel to/from New Hampshire, lodging, food, and gear (detailed gear list will be provided). Gear may be the largest expense depending on what you already have.
Fitness Level
Mountaineering requires a high degree of physical stamina and mental toughness. From carrying a heavy pack to ascending steep snow slopes. Even for the healthiest and fittest individuals, climbing mountains qualifies as an extremely challenging endeavor. Plan to be in excellent shape. The mentors will recommend hikes and other training activities.
Lodging/Camping
All participants and mentors will camp in the snow outside of Harvard Cabin, and will be required to share a tent (unless you bring your own 4-season tent). The camping cost is $10/night per person. Last resort is to stay at Joe Dodge Lodge and hike up each morning (approximately a two hour hike).
Questions? – contact Corey Hilz at the email listed below
All PATC-MS events are subject to the terms of the membership Liability Waiver.  To review the terms of the waiver, or print if for your records, click here.