Mountaineering Kickoff Hike #1 and Fitness Overview – Sun, Jan 9
January 8, 2022

-

January 9, 2022

Free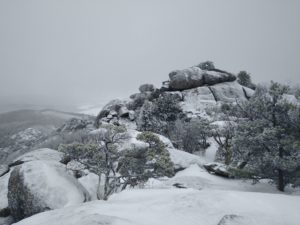 To kick off our first PATC-MS mountaineering mini-course event, come join our first hiking opportunity for 2022 – to Old Rag! We'll gather at 9am at the Old Rag parking lot and start our way to the summit. On our way, we'll talk about fitness requirements for mountaineering, Zone 1/2 heart rate control, moving in the mountains, pacing, calorie intake and expenditure, and training plans to get ready for the big mountains. Full directions to Old Rag are be found via the National Park Service website (https://www.nps.gov/places/old-rag.htm).
Reminder – winter hiking Old Rag is a very different experience. Come prepared for full day outside, including enough food and water for the day. Check the weather the night before and bring appropriate layers, including working layers and hard shells. If available, consider gaiters and microspikes.
Join us for the first cub Old Rag hike of the season!
All PATC-MS events are subject to the terms of the membership Liability Waiver.  To review the terms of the waiver, or print if for your records, click here.