Looking Glass Trad Climbing and Camping Trip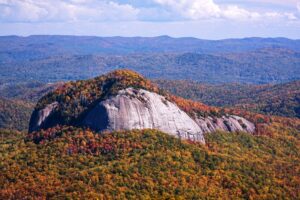 Ready to explore multi-pitch trad climbing in North Carolina? Join us for a long weekend of climbing at Looking Glass Rock near Brevard, NC. October is prime time for this location in Appalachia.
Join PATC-MS October 20-22. Climbing partners are free to manage their schedules between Friday the 20th and Monday the 23rd for personal flexibility. At the very least, we encourage taking off Friday and Monday since it's an eight hour drive from the DC area. Plan your travel in advance!
We'll be camping at Adventure Village in Brevard. It has options for tent and cabin camping. Individuals will make their own reservations (or coordinate within the group to share lodging). 
Trip leaders will arrive Thursday night, and on Friday a guide might be hired (TBD) for those interested to help facilitate getting familiar with the trailheads, crags, and routes for time efficiency. Climbers are also welcome to set off to crags/climbs of their choosing and meet up in the evening. There will be opportunities for group dinners and relaxing around the campfire in the evening for camaraderie through storytelling, sharing, and Brent's personal favorite "high/low." If you don't already know what "high/low" is you will have to come to find out. Maybe even some dancin' in the woods!
This is not an instructional clinic/event. You will need to come with a partner, or hire a guide.
This trip is for experienced trad climbers. There is no RSVP for this event, all registrations will be handled through the trip application process. Applications will close on September 4 and participants will be notified of selection by September 8. Everyone who wants to participate in the trip, including family members with a family membership must complete the application. Just note that you're planning to come with the other person so we're aware.
The trip is limited to PATC-MS members only and is capped at 12 climbers. There will be a Google spreadsheet used for logistics, coordination, and planning.     
Looking Glass Rock is located near Brevard, North Carolina, and has a range of climbing opportunities. Route development on this granite dome began mid-60s with iconic routes like "The Nose." The vast majority of climbs are trad multi-pitch, but there's even aid climbing if you want to feel like you're in Yosemite. The Nose Area is a big draw for its famous "eyebrows" features. Rising to 3,969ft, Looking Glass Rock is comprised of exposed Whiteside granite formed ~390 million years ago. Geologists refer to it as a "pluton" or a big ball of granitic rock that would have become a volcano had it not cooled before ascending to the surface. How long does it take father-time to erode everything else around the pluton to expose it?
Guidebook: Southern Pisgah Rock and Ice
Guide Services 
Fun fact: another attraction, Looking Glass Falls is one of the most popular waterfalls in Western North Carolina. The name "Looking Glass" comes from Looking Glass Rock where water freezes on its sides in the winter and glistens in sunlight like a mirror or looking glass."
Please note this is not a guided event and none of our trip leaders are professional guides. Climbing is inherently dangerous and you do so at your own risk. You are responsible for yourself, your climbing partner, and your own safety at all times.
All PATC-MS events are subject to the terms of the membership Liability Waiver.  To review the terms of the waiver, or print if for your records, click here.