Reed's Creek / Smoke Hole Canyon Sport Climbing Trip
June 16 @ 8:00 am

-

June 18 @ 5:00 pm

Free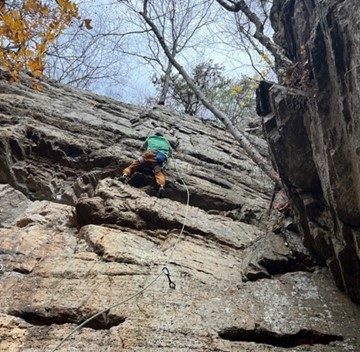 *Registration opens on April 1st, 2023
Join PATC-MS for two days of sport climbing in West Virginia. We will explore Reeds Creek and/or Smoke Hole Canyon, two areas with an abundance of moderately graded sport routes on limestone cliffs. This is a members only trip. Any guests you add to your RSVP must be members of PATC-MS. This is not an instructional clinic/event. Participants are expected to be familiar with lead/sport climbing and how to set / clean anchors. 
The plan is to head into the area Friday night to get settled into a cabin and carpool to the crag the following days for climbing. We will be camping at Thorn Spring Park, approximately 15 minutes away from the crag. We plan on having a cabin with bunk beds that can accommodate up to 8-12 (pending availability). If you'd like to stay in the cabin, send myself ([email protected]) and Roy ([email protected]@icloud.com) an email when you RSVP. The cabin has bunkbeds, bathroom, shower, stove, refrigerator and is $20 dollars a night per person. You are still welcome to come without staying at the cabin, you'll need to bring your own supplies for camping.
In addition to any camping and food/water supplies for the weekend, climbers should bring their own personal gear (harness, helmet, shoes, chalk bag, and belay device), 8-10 quick draws, stick clip, and a 60-70m rope.
For more information about the area, check out the Rakkup Guide or Mountain Project.
To cancel your reservation, go back to the event page and scroll down to the RSVP portion. Click the red "view your RSVP" text and it will take you to another page where you can change your RSVP from "going" to "not going".
Please note that this is not a guided event and none of our trip leaders are professional guides. You will be climbing on ropes set up by members of the club who are hobby climbers and not professionals. We do not vet or test any of our members' belaying skills; only climb with people you trust. Climbing is an inherently dangerous sport and you do so at your own risk. You are responsible for yourself and your own safety at all times.
All PATC-MS events are subject to the terms of the membership Liability Waiver.  To review the terms of the waiver, or print if for your records, click here.